PU Driving Belt
Product Detail
Product Tags
Round polyurethane belts are used in power transmissions and roller conveyors, such as line-shaft conveyors in glass tempering furnaces. They are used where a twist in a belt is needed to drive a pulley at an angle. Because of their highly elastic properties, round belts require no special safety measures or complicated joining procedures.
Round polyurethane belts are available in a range of diameters and material specifications to suit different end uses. Other features include hardness, length, ambient temperature and working load. The colour or material of a polyurethane belt are the most common specifications to look for. Most polyurethane belting is clear but they also come in see-through blue, a rough green and an orange, for thicker, less stretching applications.
We offer a complete line of Polyester and Polyurethane Round belts for use in transmission industrial machines. And In the conveyance of products ranging from transport machine,conveyor machine to glass and tile. Round belts are available with smooth and rough surfaces and reinforced with polyester, nylon or fibers. Also can welding belt to O-ring.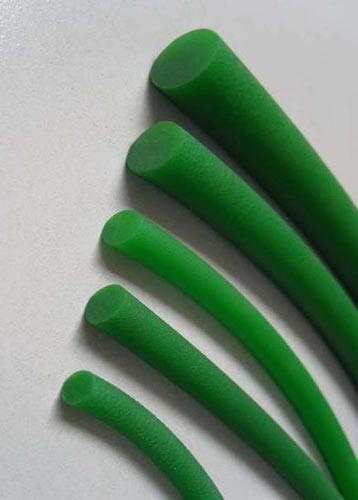 Features:
Outstanding abrasion resistance
High tensile and tear strength
Resistance to oils, fuels,and oxygen
Good weatherability and high impact resistance
Low compression set
Application:
Glass Processing Machineries
Newspaper conveying,
Packing machines,
Ceramic and stoneware processing plants,
Floor and roof tiles conveying,
Wood Working machineries,
Textile machines,
Paper industry machines,
Food grading machines, other food processing machines.
Items NO. Φ

Leastradius of gyration

Stretching rate

Maximum tensile rate

Hardness

Length of rolled

DIA(mm)
In
mm
%
Kg
Lbs
Shore(A)
Roll(m)
5mm
1.57
40
1.5-3%
2
4.3
90
100
6mm
1.97
50
1.5-3%
3.2
7
90
100
7mm
2.17
55
1.5-3%
4.1
9
90
100
8mm
2.56
65
1.5-3%
5
11
90
100
9mm
2.95
75
1.5-3%
6.8
15
90
50
10mm
3.94
100
1.5-3%
7.7
17
90
50
12mm
3.94
100
1.5-3%
12.2
27
90
30
---
Previous:
Color Aramid Ropes
Next:
Thermocouples
---
Contact us by following web-based email system
Write your message here and send it to us